About Us
Welcome to the website of Chilby Photography.
Brad Chilby is a multi award winning professional landscape photographer based in Wollongong on the New South Wales South coast.
Brad has always had a taste for adventure and exploring vast wilderness areas and from this grew a true passion for landscape photography. He set out to capture the amazing scenery of Mother Nature as witnessed on his travels and show others it's unsurpassed beauty. Some of the places he has visited few have been before and these are the places Brad most likes to photograph.
Here is a little something Brad wrote to portray his landscape photography experiences:
"There is no better feeling than experiencing nature first hand from a faraway wilderness that only few have ventured too. It is peaceful and serene and the closest thing to heaven on earth. It is only here where you can truly experience and appreciate the glory of Mother Nature at its absolute best. I love the excitement, passion and drive I feel when exploring new places and discovering landscapes seemingly lost in time. Out here I am blessed with an endless opportunity to show you the beautiful side of the world. From behind my camera I simply bring you a photograph of God's breathtaking artwork in it's purest and untouched state."
"When I take a photograph I put a lot of thought into finding a unique perspective, and location, each photograph needs to be more than just a photograph and it must have a story to tell the viewer, be it historical, cultural or of natural significance and it must have a feel of the local character and charisma that makes that place special" "I've tried to bring you a unique collection of photographs representing many aspects of the Australian landscape. For example in the Illawarra I've captured photographs from the base of large waterfalls, from beneath the canopy of the Illawarra escarpment, from sea caves on the coast and from headlands over looking our stunning beaches, It's all about telling the story of an area through my photos."
Brad started Chilby Photography with a focus on the beautiful landscapes of his home region but has since branched out and now has a unique collection of landscape photographs from all over Australia and Europe. Brad has also become known for his quality work in Commercial photography and On location portrait photography which he also enjoys very much and he is now doing events and weddings.
Brad is very passionate about his home region of the Illawarra and is a 7th generation local. The Chilby family arrived in Wollongong in 1818 from England and were one of the first two European families to call the Illawarra home. This has provided Brad with an extensive knowledge of the local area from stories and photos passed down the line and this shows in the photographs he takes. Every photograph has a rich story to tell and many of Brad's photographs are very unique and have been taken from stunning hidden locations along the coast. Brad has a knack of capturing the true essence of a location from his unique perspective and knows just about every square inch of the south coast.
Brad strictly believes in producing a great photo on the camera that is natural and true to the area in which it was taken. Brad only does basic editing on Photoshop and none of his photos are in HDR or have multi stacked layers to alter the appearance.
You may have seen some of Brad's work in Tourist Information centers on the South coast, in magazines, in the newspaper, on TV or on social media.
"I hope you enjoy my collection of photographs."
To view photos from behind the scenes of Chilby Photography, please click HERE.
Cheers,
Brad Chilby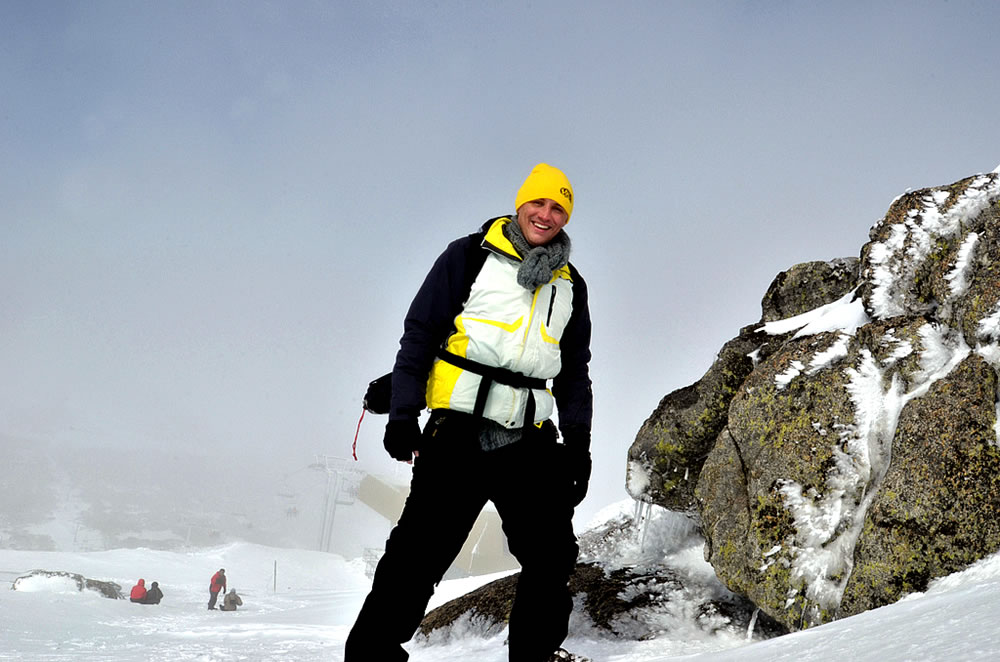 Brad Chilby on a photographic expedition to the top of Mount Perisher in the Snowy Mountains.