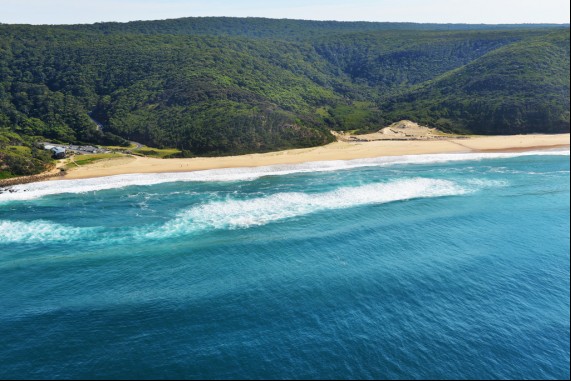 Photo Location: Garie Beach, Royal National Park
Photo Description: This is Garie Beach located in the Royal National Park between Wollongong and Sydney.
Date Taken: April 2015
Commercial Hire: Chilby Photography is available to hire commercially, if you have a specific scene, landmark, property or business you would like photographed from the air. Contact Brad Chilby to enquire : 0425 308 433 or by email : [email protected]
---
Product Information : *Chilby Photography has invested highly in premium quality local made products. All of our photographic products are produced locally using world class photographic paper, frames, canvas, metal and glass prints, all are printed using the latest technology and equipment. *Chilby Photography is completely committed to premium quality Australian made products and services. 90% of our products and services are made in the Illawarra region of N.S.W. With the other 10% from Sydney and Melbourne. All of our equipment is also purchased in Australia. *Chilby Photography is committed to offering our customers the best possible quality at an affordable price and we offer our customers a 100% quality guarantee on all of our products.*All framed and matted prints, matted prints and canvases are personally signed in a silver pen by Brad Chilby on the bottom right hand side with the photographs location hand written in silver pen by Brad Chilby on the bottom left hand side. *All print only's, metal prints and glass prints are not signed and do not have a location written on it. If you require this to be done digitally please contact us HERE. Print Only's will have a signature on the back along with the photos location written in pencil. *All framed and matted prints and matted prints have the best matching matting colour selected to suit the photograph. This will either be off white, white or vivid white. If you purchase multiple photos we try to keep a themed colour that suits all photographs the best. *If you would like a matting colour other than white, we also can do grey, black and a variety of other colours, but you will need to contact us HERE to organise your request. *We can also do double matting with two different coloured mats overlaid but an additional fee of $10.00 applies. Contact us HERE to add a double mat to your photograph. All framed and matted prints and matted prints are set on a premium quality acid free Archival Mat Board to ensure a long life span for your photograph.**Framing is only available for selection on Framed and Matted products only, which is located on the first drop down product selection box.
Delivery Information:*All orders are processed immediately and will arrive at your door within 10 to 14 days. *If you require your order sooner for a special occasion this can be organised by contacting us HERE, however it is recommenced to leave printing to dry for 5 days where possible, for quality assurance. *All orders delivered in Australia will have FREE Postage and Handling. No Postage and Handling charge will be added to your order at checkout. *All International orders will incur the standard postage rate, will be added at checkout according to the product and destination. *All products are securely packaged and well labeled to best protect the product from damage in transit.
Payment Information: *At checkout you can pay via PayPal, Credit Card or Direct Bank Deposit.
Write a review
Your Name:
Your Review:
Note:

HTML is not translated!
Rating:
Bad
Good
Enter the code in the box below:
Garie Beach, New South Wales
Price: AU$0.00
Ex Tax: AU$0.00